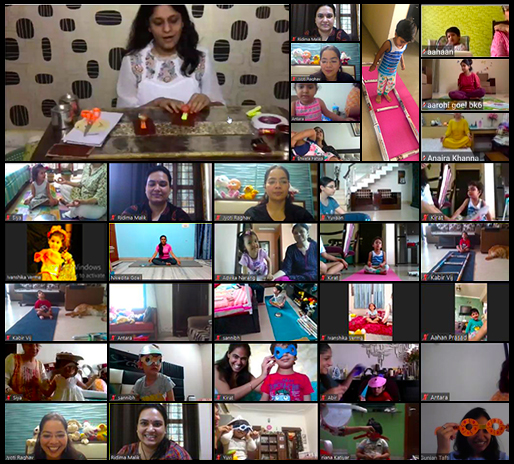 Best Online Preschool – Online Classes for Preschoolers & Online Classes for Toddlers
The Shri Ram Early Years

A warm, inviting and vibrant infrastructure, combined with a well-qualified, experienced and sensitized team, contribute towards making The Shri Ram Early Years Gurugram ( TSEY) a happy place and the best online preschool for online classes for toddlers, online classes for preschoolers etc. The vibrant Front Porch and the Jumbo Play Station with their bright hues and child – friendly texture are a favourite with the children.
How you can make your little one more engaged during their online sessions?
Remote learning is not new; it has been around nearly as long as the Internet itself. Recently, though, e learning has come blazing into the foreground. Online learning might look easy but it isn't as easy as just hopping on a Zoom call with the other preschool-aged children. Young learners need to be engaged and involved to take an active role in their learning. Engaging little ones in an online learning program is one of the major keys that ensure your child learn effectively and get the most out of what they are doing. Below are a few tips which will help you to engage your little one by making his or her online learning program more interactive.
DEDICATE A SPACE FOR LEARNING
This is the first and the most important step; it is really crucial to have a dedicated space where your child can achieve his or her best work. A quiet, comfortable, and dedicated space devoted to learning can be quite a challenge if you have a busy home. Background noises, doors slamming, dogs barking, children playing will easily distract young learners from the task at hand. Set-up a space that is off-limits to the rest of the household where they do not have any distraction or disturbance.
FINDING THE RIGHT EQUIPMENT'
In this new learning milieu, setting up a mobile phone or tablet on a tripod is the easiest thing to do. You should ensure that the device you are putting is steady for the best viewing experience. Another option is to use a computer or a laptop. Most of the laptops come with an in-built camera but that doesn't always mean it is one of great quality. Buying a separate webcam may be necessary in case you are using a computer or Laptop. Here are some additional tips to be taken care of:
Make sure the area you have chosen has good lighting, possibly by adding a ring light to focus on the subject.
Sound quality can suffer too due to a few reasons, so using a good earphone is a good investment.
Try fixing the camera slightly above eye-level, looking slightly down.
DIGITAL RECESS
You should ensure that your child takes plenty of breaks during the online classroom sessions in order to get physical activity and time away from screen. You can set alarms according to the schedule given by their teacher and encourage them to get up, get some fresh air, or have a snack so that they are not sedentary for the entire day.
DO NOT FORGET TO HAVE FUN
To make their teaching sessions fun you can plan off-screen activities for your little one. Between school and work obligations, it gets difficult for parents to spend quality time with their children, so turn this time into an opportunity for bonding. Organize games or go outside for a walk together. Follow your community's guidelines about safety, of course, but make sure you still find time for fun with your little one.
Embracing the new normal and making the leap into online classroom sessions can be nerve-wracking. Making e-learning fun is even harder. There are many obstacles to overcome. But it isn't impossible! Take a good care of all the aforesaid tips to make you little ones learning experience more accessible, more interactive and — dare we say it — more engaging than ever before. All it takes is your mindset, the right tools and a focused approach. If you follow the above-mentioned tips and a focused approach from a good preschool, then it will only drive motivation and encourage participation of your child. TSEY is amongst the best preschools in Gurgaon that will guide you to set up a successful virtual learning environment. This won't be easy, but you have all the tools you need. Good luck and happy learning!
Online Preschool Program- Hamaara Aasmaan
The whole world is in going through pain and grief due to the pandemic. Amidst such difficult times, as the world hunkers down to halt there are some of us, who are fighting with courage and finding out new and innovative ways to cope with this unprecedented challenge posed by the global outbreak of COVID-19 Pandemic. Creativity is at a peak in such unusual circumstances where you need to be innovative in your day-to-day life and work. TSEY has come up with an innovative preschool program- Hamaara Aasmaan for the young minds with a prime focus on the Holistic Development of the children. ​
​Objectives of this preschool program
To engage parents as co-teachers
To use the online environment for early childhood education in an innovative way
To incorporate fun activities that can help children learn
To follow children's learning path remotely
The objective of The Shri Ram Earl Years online preschool program is to improve the quality of primary education by imparting knowledge and understanding the science associated with child behavior and the 'why' behind certain teaching tools. The curriculum of this program has been designed keeping in mind the new normal in education i.e. a blend of both classroom and online teaching. It includes interactive and engaging sessions, with simple verbal directions.
Key highlights about the course:
Concept Based Learning
TSEY – online preschool program focuses on the holistic development of a child aged between 1.5 – 4 year olds. It is a scientifically planned curriculum designed with an integrated approach and age-wise milestones, to systematically cover all major concepts like:
Body Parts
My Family
Fruits
Vegetables
Colours
Helpers
Alphabets
Numbers
Positional & Spatial concepts
Transport
Co-Curricular Activities
With a scientifically designed curriculum and innovative teaching practices, this program offers a wide variety of Co-curricular activities that ensures perfect holistic development at this tender age. It focuses on overall development of the children while making their experience of online classes an enjoyable one. The Shri Ram Early Years Virtual Learning Programme- Hamaara Aasmaan is built with a curriculum that offers a great blend of activities that cater to all the domains of development in the little ones:
Story Narration
Karate
Creative Hands
Dance
Celebration
Event
Intellectual Development
This program offers the best opportunities to stimulate intellectual curiosity in the toddlers so as to help them understand the world around them. Itoffers theme-based activities where the little ones learn about the monthly theme & concepts such as:
People Around Us
Community Helpers
My Family
Fruits & Vegetables
Shapes
Numbers
Vehicles Around Us
Language Development
Language development is the foundation for all later learning. It provides a combination of the right activities like rhymes recitation and story narration with fun activities to increase children's vocabulary steadily and rapidly. This program has been designed to focus on all aspects of language learning, namely:
Reading
Writing
Oral Expression
Listening
Speaking
The Shri Ram Early Years Gurugram(TSEY) is amongst the best preschool in Gurgaon focusing on developing all domains through their Early Years Learning Programme– HAMAARA AASMAAN with special impetus to language skills, social and emotional skills, critical and creative thinking, fine motor and gross motor skills.
Program Highlights
Art and Craft Box – At an early age, children explore sizes and shapes. They begin evaluating and comparing objects, strengthening early math skills. More importantly, drawing, painting, and other art activities help children to develop spatial reasoning skills.
Brain Gym – The activities in this focus on the use of simple movements and tasks to help integrate the whole brain, senses and body.
Busy Fingers – This focuses on hands-on learning. The emphasis is on concrete, rather than abstract learning, as children work on activities that teach language, math, culture and practical life lessons.
Circle Time – It helps develop positive relationships between children/ children and grown ups through engaging and fun activities.
Dance and Movement – Music and dance engages the brain. Children learn new things, like sounds, words and patterns through music. They can explore and control their body movements. These activities are great for development and stimulate connections in the growing brain.
Smiling Minds (E-Yoga) – Physically, yoga enhances flexibility, strength, co-ordination and body awareness. In addition, the child's concentration, sense of calmness and relaxation improves.
Karate – Martial arts teaches confidence and self-discipline while providing engaging physical activity. It builds stamina and endurance in children. This contributes towards an improvement in their overall physical and mental health.
Little Chefs – Healthy Eats – Cooking builds basic skills. It helps children hone basic math skills by doing something as simple as counting potatoes or pouring water into a measuring cup. It also encourages an adventurous palate and helps young children explore their senses. It boosts a sense of confidence thereby contributing towards positive self esteem.
Physical Education – It promotes healthy growth and development. It helps build a healthier body composition, stronger bones and muscles. It is important for better health and well-being of children.
Tale Times – Children get to know sounds, words and language, and develop early literacy skills. They learn to value books and stories. It sparks a child's imagination and stimulate curiosity. It also helps a child develop his/her communication skills.
Wonder Time – Simple science experiments nurtures intellectual curiosity, helping children acquire new ways of asking questions and understanding the world.
One on One Parent Connect Time – Having one on one connect time with parents through various sessions and interactions ensures The Three Way Handshake wherein the child , the school and the parent wok together.
Meet the Expert – The school counsellor and other experts on parenting facilitate the sharing of strategies that help parents as well.
6 Ways To Make Online Lessons Fun And Engaging In Classroom
Early years are the most important and crucial years for a child to prepare themselves for the future and first step towards life. It is crucial to ensure uninterrupted learning for the children as critical skills like social behaviour, communication skills, language, motor and cognitive skills are developed in this age.
As the pandemic continues, your little one will be away from pre-school care, online pre schooling ensures that learning should not stop. It ensures that your little one gets education at home.
Below are some ways that can help you balance teaching your students with fun and engaging teaching activities:
Adapt in-class activities to the virtual classroom.
In a physical classroom, it's typical to give students some quiet reflection time to work alone but these kinds of activities don't translate well in online classes.
The long texts are challenging to read on a screen and the silence just doesn't translate that well in virtual classrooms; it provides the perfect excuse for a student's attention to drift elsewhere.
Activities like typing or talking keeps your students active throughout the lesson in the way to go. You can do this by including games, asking lots of questions and making sure learners have physically  have to physically do things like use drawing tools or typing in dialogue boxes.
While planning your lesson you should remember that as an online teacher, you make sure your student has to say something every three minutes.
Make student feel valued
Students studying in an isolated environment can be a huge factor in making them feel demotivated. They will think that no one will notice or care if they miss any class, or they will find it all too tempting no to log in to the classroom.
        You need to find out about your child's interests and incorporate them into the lesson where possible.
        Give a regular feedback on your child's work
        Follow up their previous lessons so your students know that you're on top of what they're learning
        Learn your students' names and use their name throughout the lesson, and make sure they learn yours.
        You need to aim to be a positive, encouraging presence.
Set up goals and help your students stick to them
Set goals for the online learners
There is one simple way to introduce short-term goals into your online classroom is to make sure each lesson has a clear outline that you share with your student so they know the context for any activity they are doing and where they are in the learning process. Also, then think about how you might reward students for finishing tasks during a lesson. You could try badges, points, playing games, other fun activities or by giving positive feedback to your student.
Progress checks for online learners
If you are teaching kids, every time they achieve something, you can go to the achievement page and ask them to draw something that reminds them of what they've learned
Be patient with your students
As anyone can tell you, keeping students busy and energizing is no easy task. Remember that young children sometimes don't have very high attention spans, so it can be difficult for them to sit still and focus at times. This is totally normal and fine.
Use technology for your advantage
Teaching online comes with its own difficulties, but it also puts a whole load of really cool things at your fingertips. Whether it's discussion boards, pointers, online games, text editors, drawing tools, file editors, breakout rooms, or screen-sharing tools, you can use the technology you have and you  can add variety to your lessons and keep children focused.
First of all, make sure you know how to use these online tools and take time to explain them to the pre school parents, so they feel confident with them too. Then think about how you can use them to make your lessons interesting. For example, you can use them as a reward or engage distinctive senses and skills among your students.
These were some of the ways which make lessons fun and engaging in an online classroom. We hope that this blog helps you with your doubts and queries.
How are online live classes beneficial for preschoolers?
In this era of digital learning, it's high time we should understand and effectively use technology to help the next generation get the best learning experience. While traditional schools are still the leading choice for parents when it comes to the education of their children, online preschool is now starting to gain momentum. Online schools offer the same level of quality education.
We have witnessed an enormous boom of the e-learning market recently, and it's expected to continuously grow in the coming years. According to many surveys it has also been reported that an increased number of young learners from different parts of the globe are now taking online courses as part of their early education. These numbers speak a lot about the potential of online pre schooling to become the preferred mode of study for students in the future.
E-learning differs from the traditional classroom setting significantly in terms of the environment and experience. Both traditional classrooms as well as online classrooms have their own sets of pros and cons. But looking at the current scenario many people now consider online courses as the future of education. Believe it or not, there are a number of benefits online classes bring.
Here are some of the most significant benefits supplementing your child's days with new and different online learning options that proves incredibly useful.
Convenient For Both The Child And Parent
This one doesn't need much of an explanation, parents go through a lot of things daily which is also understandable why most of them look for convenience in every decision they make, especially concerning their children. Online preschools can be a convenient option for early childhood education as it does not require parents to drive their kids to school and they have the option to study with their kids as per their convenience. 
The convenience that online learning provides to parents allows them to have more time for other aspects of their lives while getting the assurance that their kid feels more in control of the process and in charge of his/her education, giving them a boost to perform better.
Less Distractions And More Time To learn
We may not realize it, but this is one of the most significant benefits of taking online classes. In an online class children are able to learn in the face of fewer time-wasters and distractions. Enrolling your child in the best online preschool gives you an advantage to track the learning process of your child more effectively. They have more time to learn with less distractions.
Undeniably, there are many benefits of digital learning and It is no wonder then due to this plethora of advantages, online education has gained mainstream acceptance today. However, we cannot deny the importance of traditional schooling but in a current scenario that everyone is dealing with an online class, can have greater control over one's learning. This not only helps one get a deeper understanding of the subject being taught, but kids are also becoming more accountable, independent and confident that allows them to acquire a deeper knowledge through active exploration of real-world problems and challenges. Being amongst the best preschool in Gurgaon TSEY has come up with  HamaaraAasman-  their online preschool program to bring some semblance of routine for the child.
Fun Ways To Engage Preschoolers During Lockdown
With the schools closed, a sound plan to keep your little one engaged indoors is the need of the hour. Keeping toddlers busy and happy – and making sure they're not watching too much television/digital content – seems like a big ask during such times. But, who has the time to plan a spreadsheet and achieve work-life balance,  without affecting work priorities or compromising on your child's development?
So while it might seem like a futile battle, fret not we have compiled some smart hacks that can help you during these unprecedented, chaotic and confusing times. There's a lot of stuff – fun  and educational – that you can plan into their day. But before we move ahead, we recommend that you have a structure. Don't stress about filling every moment of their day and divide all the activities for kids into a timetable, having time set out for educational tasks and breaking it up with fun activities to keep your little one engaged and happy.
Here are some fun ways that can keep your little one engaged during these times and make the most of their time at home:
Encourage Them To Cultivate A New Hobby
Hobbies play a very important role in diminishing unavoidable stress,so the next time your child complains of utter boredom, encourage your little one to nurture a new hobby. Painting, dancing or playing indoor games, can be some of the hobbies that can provide an outlet for creativity. All hobbies have something new to make your child learn, since each hobby comes with its own creativity, your child will look forward to each day. So you can help them to take up and develop those hobbies and tap that inner passion during this lockdown period.
Enroll in Online Activity Classes
You should spare time to understand the interests and hobbies of your child, by this you can enroll them in different activity e-classes such as General Knowledge, Art and Craft, musicetc and make their screen time meaningful. Later, you can give them a specific fun task to do based on what they have learnt in their online classes. Documentaries for children, plays, educational films, etc. are the best options to help them channelize their energy while doing something creative and productive. You can enroll your child toTSEY's HamaaraAasman- online preschool program. TSEY is amongst the best preschools in Gurgaon offering opportunities for the toddlers to indulge in fun learning activities right from their homes.
Establish a Routine:
You should ensure that you keep your child busy at home and establish a routine . Make a time table for your little one to plan and manage what your child is doing throughout the day. It will also go a long way in instilling discipline in your child, while also giving them a sense of purpose. There are a number of ways in which you can help establish a fixed schedule for your child. Enrolling them into the digital space for study aids such as LIVE online classes can also assist you in separating 'study time' from 'play time' for your child.
Do activities together:
As parents, you might often find yourself juggling between work and family, consider this lockdown period to be a blessing in disguise and make the most of it.
This is your chance to bond with your child and indulge in fun learning activities together. While this is an unexpected scenario, it is a great opportunity for a family to spend quality time together. Spending time together can help create a healthy and loving bond between you and your child. You can indulge in different fun, educational activities together, right from studies to doing chores such as cooking to even doing learning activities together. This will boost your little one's morale, while allowing you to have some quality bonding time.
These were some of ways that will keep your toddler busy and happy; it will also make sure they are not glued in front of a screen for long.
Why are Online Classes for Preschoolers here to stay? 
The well-being and protection of your child are of utmost importance to you. Well, the education system agrees with you on this part. Students are the future of the world who need to be protected at any cost. And when it comes to preschoolers, the level of safety just increases. Preschool schools are trying their best to stand by this motive. 
COVID-19 has captured our lives and is going to stay for a long period. For how much time? We don't know. We have no choice left but to accept the fact. Fortunately, we have learned how to adapt to these uncertain situations. And when it comes to education, we are not ready to compromise. To ensure the smooth flow of the learning process, we have to switch to "remote learning." 
Adapting to Online Education: 
In the beginning, we were skeptical about this new form of learning. But, preschools have understood the effectiveness of Online classes for toddlers where their safety is ensured. It has enabled the parents and educational institutions to take a new route for educating the children through online education. 
Digital learning does have the potential to transform the education system. It will be unfair to judge the effectiveness of online classes for preschoolers as there are several insights into teaching and learning that can have longer-term implications. This method has definitely ensured continuity in learning. 
How The Shri Ram Early Years Ensure Effective Online Classes for toddlers?

 
Nobody would have accepted the idea of online education before the pandemic. But now, the idea itself feels so fresh and unique that everyone is celebrating this education system. According to a recent study, online learning has led to an increase in retention of information and takes less time, implying the changes coronavirus have caused might be here to stay. 
With this sudden shift away from the classroom to remote areas, some of you might be wondering whether the adoption of online learning will continue post-pandemic, and how this shift will impact the education market. The Shri Ram Early Years has realized the potential for online classes for preschoolers and hereby stands by this belief to provide an accessible education for all. This motive of ours has made us the best online preschool for your toddler! 
Somewhere all of us have accepted this idea and understood that this is necessary for our children. To make online classes for toddlers more effective, we make sure that the best education facilities are provided to your loved one with online learning. Here are some of the aspects we swear by while imparting an online education. 
It is obvious for you to be worried when it comes to the educational aspect of your child. We respect your choices and understand your concern behind this motive. Our teachers have proved that online learning is not only possible but effective in the learning process as well. With our special attention, your toddler will experience effective learning with our online classes leading to Quality Education. 
Practical Approach for better results 
Online classes for toddlers are a way more practical and applied method of teaching today than any other medium. Digital learning has solved the problem of being in a classroom setup, having the tangible resources, and the presence of teachers in a fixed setup. The time has come where online classes for toddlers have become an integral part of the school education system. Now your toddler can effectively learn with a more practical approach to teaching. 
Now, your children don't have to waste their precious learning time in visiting the proper classroom setup. They can learn, watch online lectures, and solve their queries in actual teaching sessions with our teachers. It is somewhere contrasting to the traditional classroom setup which is way more effective in the learning process.  
We can reach your child anywhere, anytime 
TSEY teachers are way more empathic and effective when they are providing online classes to your child. We understand the learning abilities of your children and then provide the required training for their overall development. It's one of the positive outcomes of remote teaching where we can reach your child anytime, anywhere, and anyplace. 
If research is to be believed, retention of material is 25-60% more in online learning compared to only 8-10% in a classroom. Because the children require 40-60% less time to learn than in a traditional classroom. Along with it, we believe that good teaching will always be the center of education. Being one of the best online preschools, The Shri Ram Early Years ensures that this perspective is fulfilled. For more queries, come to our website, or contact us for further details. 
Flow Of The Day
Nanhe Kadam (Playgroup)
| TIME | DESCRIPTION |
| --- | --- |
| 10:30 AM- 10:35 AM | The day begins with the class teachers welcoming the children with a Good Morning song followed by the Shri Prayer. |
| 10:35 AM – 10:50 AM | The children are engaged in activities such as Brain Gym/Circle Time/Dance and Movement |
| 10:50 AM – 11:00 AM | Busy fingers/Interactive Worksheets/Physical Education |
| 11:05 AM to 11:25 AM | Snack time!! We take a break so our little Shriites can refuel their energy and get ready for the next sessions! |
| 11:30 AM – 11:45 AM | The next session begins with Art and Craft Box/Enrichment Time/Little Chefs |
| 11:45 AM – 12:00 Noon | E-Yoga/Tale Times/Wonder Time. |
| 12:00 Noon -12:05 PM | The Teachers wind up for the day say their Goodbyes to the children and remind them to be ready with the next day's material,needed for the activities! |
Badhte Kadam (Pre-nursery)
| TIME | DESCRIPTION |
| --- | --- |
| 10:00 AM- 10:10 AM | The day begins with the class teachers welcoming the children with a Good Morning song followed by the Shri Prayer. |
| 10:10 AM-10:30 AM | The children are engaged in activities such as Brain Gym/Circle Time/Physical Education/Rhyme Time |
| 10:30 AM-10:45 AM | Snack time!! We take a break so our little Shriites can refuel their energy and get ready for the next sessions! |
| 10:45 AM-11:15 AM | Share and Tell/Little Chefs/Worksheets/Recap of sounds done |
| 11:15 AM – 11:30 AM | A small break is given again,as we understand children need to move around a little before sitting for the next session |
| 11:30 AM – 12:00 Noon | Music and Movement/ Montessori/Karate/Wonder Time |
| 12:00 Noon – 12:05 PM | The Teachers wind up for the day say their Goodbyes to the children and remind them to be ready with the next day's material,needed for the activities! |
Time Slot
Nanhe Kadam (Playgroup)
Morning slot : 10:30 AM to 12:00 Noon
Evening slot: 4:00 PM to 5:30 PM
Badhte Kadam (Pre-nursery)
Morning slot: 10.00 AM to 12.00 Noon
Evening slot: 4:00 PM to 6:00 PM
NO REGISTRATION FEE
@ ₹4,900 / Month for all cities
What is the Importance of Preschool Education (0 to 3.5 years)?
Contact Us
The Shri Ram Early Years
Behind Vipul Greens, Sohna – Gurgaon Rd, Sector 48, Gurugram, Haryana 122018
+91- 8882 676 553
admission.tsey@shrieducare.com